Cabrera talks systems thinking, solving complex problems at West Point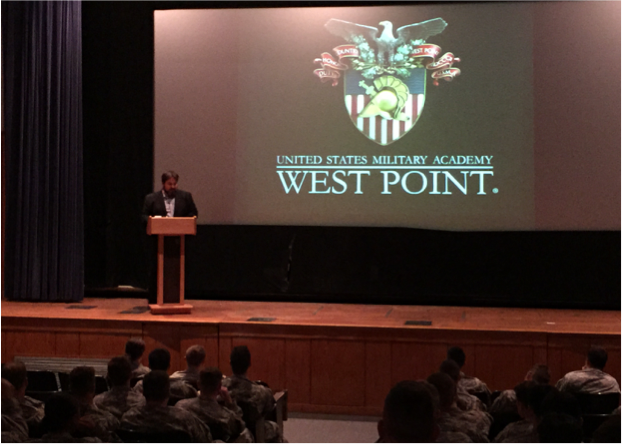 WEST POINT, N.Y. (August 28, 2015) — Dr. Derek Cabrera, Cornell Faculty and Senior Research Scientist at Cabrera Research Lab for the study, innovation, and dissemination of systems thinking, was the guest lecturer for cadets and faculty in the Department of Systems Engineering (SE 300, 350, 450) at the United States Military Academy at West Point. Drs. Derek and Laura Cabrera were at West Point to meet with faculty and cadets and discuss their newly released book, Systems Thinking Made Simple: New Hope for Solving Wicked Problems.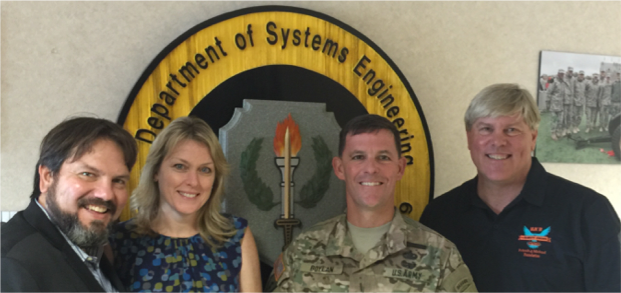 Cabrera explained, "Many systems engineering departments have adopted powerful modeling techniques such as system dynamics, network theory, and agent based modeling, but inevitably they find that what students lack is the ability to think deeply. Systems thinking contains a big toolbox of methods and approaches, but without a deeper understanding of the patterns of thinking that underlie these tools, it's like a woodworker who has all the tools without the carpentry skills. [Our book] provides the underlying rules that help systems thinkers be effective with whatever specialized tool or modeling language fits the bill to solve the problem they are trying to solve."
The mission of the Department of Systems Engineering (DSE) is to "enhance the leadership success of cadets and faculty by teaching complex problem solving and decision making skills. The department also provides solutions to problems of national significance—working with external partners in a synergy that enhances cadet education."[1] To that end, some DSE faculty have worked with Cabrera Research Lab, and have consequently integrated key insights from this collaboration into their core sequence.
Professors Michael Quinn, U.S. Army, and Gregory L. Boylan, Lieutenant Colonel, U.S. Army, also adopted Systems Thinking Made Simple as a textbook for their Introduction to Systems Engineering course. Dr. Boylan has explained that the book "lays out complex and often counterintuitive concepts in a simple and intuitive way. Everyone, from Cadet to Commander-in-Chief, would benefit from reading this book and applying these ideas." Professors Quinn and Boylan gave the Cabreras a tour of the historic campus located about 50 miles north of New York City. Derek and Laura also had the opportunity to eat in the mess hall with West Point cadets.



Dr. Laura Cabrera explained, "One of the things that stood out during our tour of West Point throughout the day was the remarkable culture that is palpable wherever you go: in its buildings and monuments, its faculty and cadets, and its customs and pedagogy, and in the mess hall's complex adaptive system that serves 4500 cadets a meal in under 25 minutes."
Founded in 1802, West Point was our nation's first college of engineering and consistently ranks among the top colleges in the country.[1:1] West Point is a four-year, federal, co-ed military academy founded in 1802 in New York State. West Point's mission is "to educate, train and inspire the Corps of Cadets so that each graduate is a commissions leader of character committed to the values of Duty, Honor, Country and prepared for a career of professional excellence and service to the nation as an officer in the United States Army."[1:2]



Derek Cabrera commented on his respect for the "long gray line" (a reference to the stellar history of the academy and its cadets) and belief that his work and systems engineering were a natural coupling. "West Point is a National treasure, and I couldn't have been more proud that our work in systems thinking over the last decades will help cadets to hone their skills as they tackle some of the most important and complex problems."
---