The 8 Sacred Cows of Systems Thinking
Derek Cabrera, PhD

Derek Cabrera (PhD, Cornell) is an internationally known systems scientist and serves on the faculty of Cornell University where he teaches systems thinking, systems leadership, and systems mapping and is Program Director for the Graduate Certification Program in Systems Thinking, Modeling, and Leadership (STML). He is a senior scientist at Cabrera Research Lab. He's authored 8 books including, Systems Thinking Made Simple and Flock Not Clock.

More posts by Derek Cabrera, PhD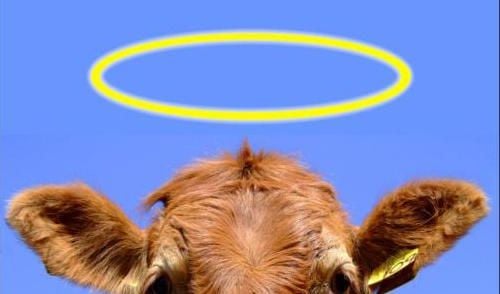 This isn't a blog post, but more of a blog-collection. 8 common things that systems thinkers like to say that are bupkis. We call them sacred cows of systems thinking because it is almost blasphemous to disagree with them, even though most have a much bigger bark than bite. Click on the links below (in the right column) to red the blogs on each sacred cow.
And, one thing is for sure, dare to challenge any one of these sacred cows 🐮, and you'll take a rash of shit 💩for it. People will come out of the woodwork to defend them with great fanfare and handwaving 👋. But stay steady, the logic of nature 🌱 and science 🔬 eventually win them over, but it can take time ⌛. Ug. 😛
In the list below, click on the links to go to articles on the sacred cow and its scientifically-valid replacement.

The 8 Sacred Cows of Systems Thinking

In one sense, I agree with those who lament that semantic debates lack utility. Purely semantic debates, based entirely on opinion, are not terribly useful. Yet, the distinctions (above) are not semantic—there are fundamental empirical differences between the sacred cow and the scientifically-valid replacement. Because these differences strike at issues of a fundamental nature, it is critically important for the systems community to understand them, because all misunderstandings stem from mistakes made at these "origin assumptions." All of the "scared cows" I mention above are empirically testable, not a matter of opinion. In all cases, the distinction being made between the "scared cow" and the replacement increases deep understanding of systems.
One of the things that all scientists (systems scientists included) must get better at is making scientific concepts accessible to the public (because the public funds our science) without dumbing them down to the point of losing fidelity with the scientific concept. All of the sacred cows I mention are guilty of over-simplifying or being somewhat loose with language. Thus, when these tropes get repeated and reinforced, they provide the public with a false understanding. When the public commits to these tropes so thoroughly that they become "sacred cows" it becomes even worse.
I update this list from time to time when a new trope raises its ugly head.