Cabrera Keynotes AECT Showcasing New Technologies and Wins Outstanding Book Award for Systems Thinking Approach to Education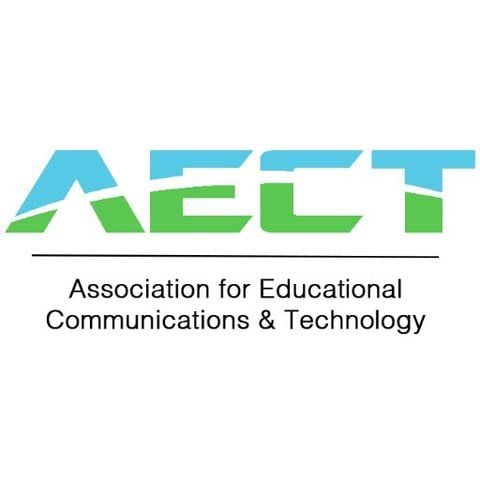 FOR IMMEDIATE RELEASE -
November 9, 2017
Information is not Knowledge
JACKSONVILLE, FL - Dr. Derek Cabrera delivered the keynote address at the annual convention of the Association for Educational Communications & Technology (AETC). His talk, "Systems Thinking Made Simple," introduced the rapt, standing-room only audience to the future of education—our ability to measure complex thinking using new research-based tools and technologies.
Cabrera, along with his wife and partner Dr. Laura Cabrera, developed an edumetric inventory and powerful cognitive mapping software (Plectica™) that can be used to teach, learn, and measure systemic thinking and metacognition. The inventory—called the Systems Thinking and Metacognition Inventory or STMI™—provides a baseline for for measurement, similar in utility, although very different in design, to the standard IQ test. The STMI™ is designed to measure individual changes in capability to provide users insight into their strengths and weaknesses in the four metacognitive skills - distinctions, systems, relationships, and perspectives (DSRP) - that underlie systems thinking. The STMI™ gives educators a current snapshot of the degree to which a learner exhibits systems thinking skills and awareness of applying these skills. Cabrera also showcased how education technologists can use Plectica™ visual mapping software to analytically compare and qualitatively and quantitatively measure information, DSRP structure, and actual knowledge.
This innovation is paramount to building knowledge and teaching the next generation of critical and creative thinkers. "Not only can we measure complex, robust, and adaptive thinking for the first time in history, we can do it at scale. STMI™ and Plectica™ has the power to transform education pedagogy, which will have far reaching impacts on society," says Cabrera.
Cabrera's keynote fit well within the theme of "Leading Learning for Change." Under the twitter hashtag, #AECT17, attendees cosigned the paradigm shift in education.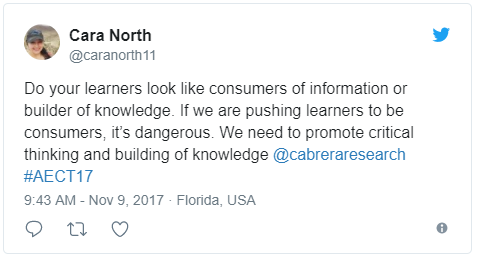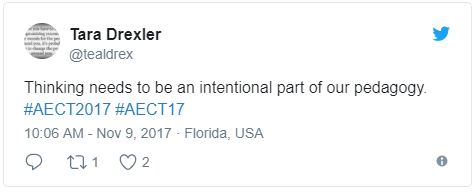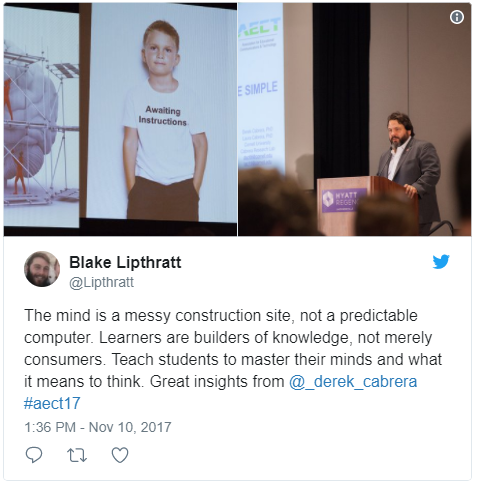 At the conclusion of his address, Drs. Derek and Laura Cabrera were presented with the 2017 AECT Systems Thinking and Change Division Outstanding Book Award for their book, Systems Thinking Made Simple: New Hope for Solving Wicked Problems (2015).
The Association for Educational Communications and Technology (AECT) is a professional association of thousands of educators and others whose activities are directed toward improving instruction through technology. "Dr. Cabrera is a leading mind on systems thinking leadership in inclusive, global contexts," commented Eugene Kowch, Chair of the AECT International Convention.
Dr. Derek Cabrera holds a PhD from Cornell University where he is a faculty member in the Institute for Public Affairs. Derek is the author of eight books and an internationally recognized expert in metacognition, systems thinking and the study of complex systems.
Contact:
Laura Cabrera
lac19@cornell.edu
###