Cabreras Present on Systems Thinking, Book at State Department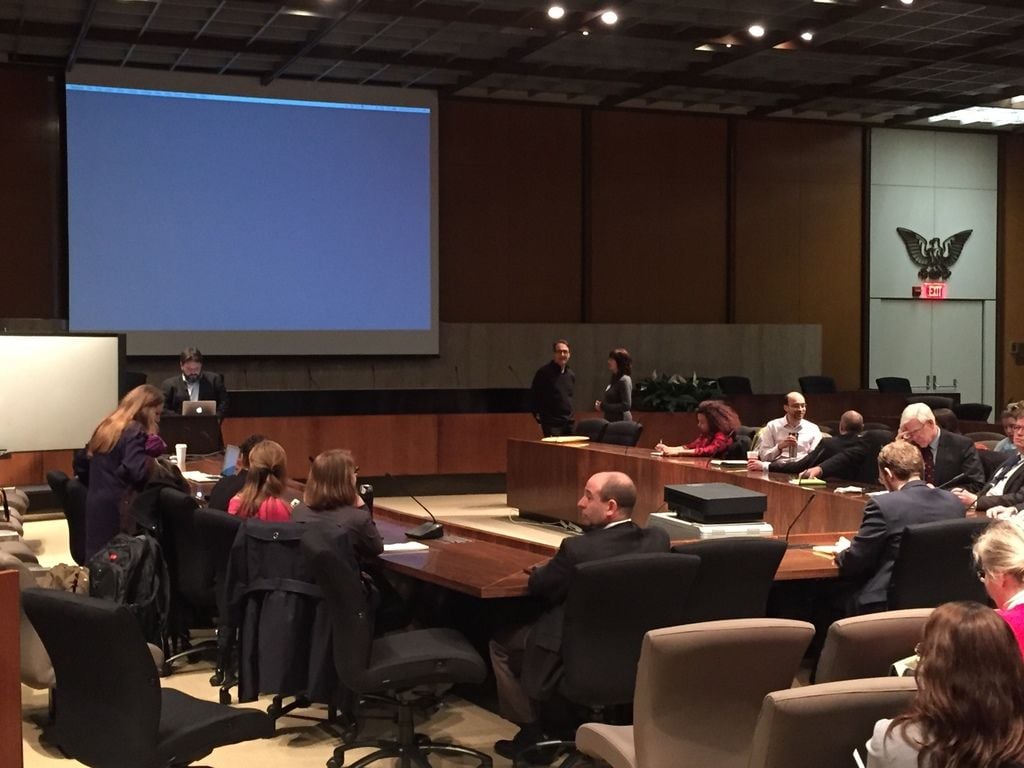 FOR IMMEDIATE RELEASE
####Cabreras Present on Systems Thinking, New Book at State Department
Systems Thinking Applied to Complex Problems of National Interest
Ithaca, N.Y. May 2, 2016
On April 6, 2016, Derek and Laura Cabrera were hosted by the U.S. State Department for a series of presentations, workshops, and discussion of their recently published book, Systems Thinking Made Simple: New Hope for Solving Wicked Problems. The events were organized around the application of the Cabreras' four simple rules of systems thinking (DSRP) to complex problems vital to our nation.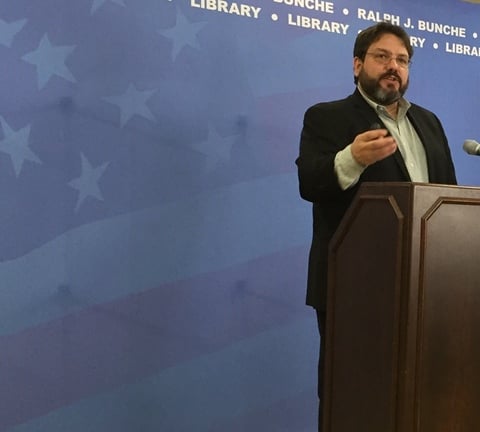 Dr. Derek Cabrera delivers a book talk at the Ralph J. Bunche Library
The Cabreras discuss wicked problems in their book. Such problems are intractable and entail numerous interlinked issues that frequently involve competing interests. Wicked problems do not respond well to formulaic solutions due to the uniqueness and complexity of the factors involved.
Derek Cabrera remarked,
"Wicked problems don't get any more wicked than the ones that State Department folks deal with. I was so impressed with the foreign service folks we met throughout the day. It redoubled my respect for the types of intractable, hairball problems they are faced with everyday."
Derek Cabrera explained that systems thinking attempts to align our mental models with the real world—to make our assessments better approximate reality. He elaborated that conscious application of the DSRP rules—making distinctions and recognizing systems, relationships, and perspectives—makes systems thinking both accessible and immensely useful for analysts and practitioners. Regarding such issues at State, Cabrera said:
"The complexity of problems is great. The amount of information is overwhelming. The tools, techniques and methods are constantly evolving. The tradecraft is the best in the world. But 'Thinkcraft' lies at the base of all of these things. DSRP has a unique role to play in developing capacities within the State Department for more systemic thought."
The day included a presentation for Department of State trainees, a lunch for a general Department of State audience, and a lengthy workshop including application of DSRP to two complex case studies. One of these cases concerned the Food-Water-Energy nexus, as part of an ongoing project called ThinkWater funded by the US Department of Agriculture.
Laura Cabrera summarized the substantive focus of the day:
"We walked through case examples of systems thinking in the Food-Water-Energy nexus, anti-corruption, and refugee radicalization as demonstrations of how systems thinking can be used to solve wicked problems."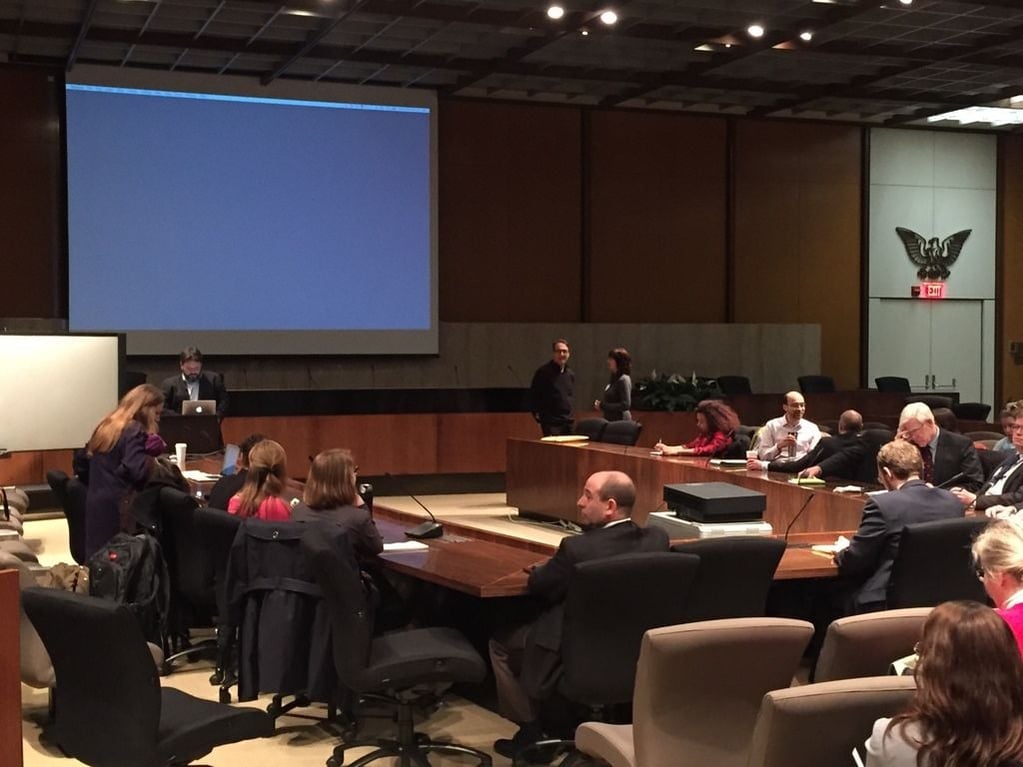 Derek Cabrera presenting in Loy Henderson Auditorium
The various events of the day explored the application of DSRP to enhance cross-disciplinary and interdepartmental problem-solving and policy creation.
About Cabrera Research Lab
Born at Cornell University, Cabrera Research Lab (CRL) is one of the leading research labs in the world in systems thinking and metacognition. CRL pursues three focus areas: basic and applied research, innovation in tools, media and technologies, and driving public understanding. Its Mission-Vision is to Engage, Educate, and Empower 7 Billion Systems Thinkers to solve everyday and wicked problems. CRL is run by Cornell University Faculty Derek and Laura Cabrera. More at: www.crlab.us
About ThinkWater
ThinkWater is a national campaign supported by the U.S. Department of Agriculture and led by the University of Wisconsin-Extension and Cabrera Research Lab to help people of all backgrounds and ages think and care deeply about water. It does so by applying systems thinking to existing water education and research efforts and by actively engaging people in a new way around water issues. Our Mission-Vision is to Engage, Educate and Empower 7 Billion Systems Thinkers to solve wicked water problems. More at: www.thinkwater.us
Media Inquiries:
Laura Cabrera
Senior Faculty
Cabrera Research Lab
Tel. 607-592-1530
Email: lac19@cornell.edu
www.crlab.us
**###**