Cornell University sponsors Systems Thinking v2.0 Conference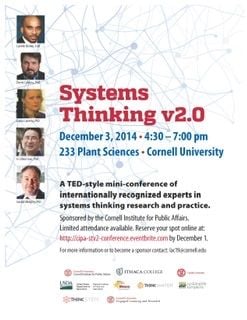 Ithaca, NY November 21, 2014 — On Wednesday December 3, 2014 from 4:30-7:00pm (Plant Sciences 233), the Cornell Institute for Public Affairs (CIPA) will host a TED-style mini-conference on systems thinking keynoted by Gerald Midgley, Associate Dean for Research and Enterprise at Hull University School of Business. Speakers will also include systems scientist Derek Cabrera, translational researcher Laura Cabrera, Ithaca City School District Superintendent Luvelle Brown, and CIPA Core Faculty member Oliver Gao.
Register online at: http://cipa-stv2-conference.eventbrite.com
Download the conference app: http://my.yapp.us/HY43PH
Tom O'Toole, Executive Director of the Cornell Institute for Public Affairs (CIPA), the host and co-sponsor of the event, says, "We hope this event will impress upon faculty, students, and community members the importance of systems thinking in the field of public affairs; not only the interdisciplinary applications of systems thinking in the field, but how lack of systems thinking (in both academia and practice) has contributed to some of the most serious political, economic, and social problems our world is facing."
Along with CIPA, Systems Thinking v2.0 is co-sponsored by other leaders in the public, private, and University sectors such as Cornell's Center for Engaged Learning and Research, Ithaca College's School of Health Sciences and Human Performance, the Roy H. Park School of Communication, Sustainable Tompkins, and the Ithaca City School District, ThinkWater, USDA/NIFA, and ThinkSTEM.


Raj Subramaniam, Professor & Graduate Program Chair of the Department of Health Promotion and Physical Education at Ithaca College states, "Systems Thinking is the gateway to making connections." The conference is intended for people from all academic disciplines, community leaders, practitioners, students, policy and program directors, educators, cognitive scientists and thought leaders, all of whom will have the opportunity to engage in a lively discussion exploring the promise of systems thinking to make the connections that need to be made to resolve the complex issues we face.
The event is a mini-conference featuring short, TED-style talks on systems thinking. The event schedule is as follows:
Introduction (Dr. Laura Cabrera): 10 minutes (4:30-4:40)
Dr. Gerald Midgley: 30 minutes (4:40-5:10)
Dr. Derek Cabrera: 25 minutes (5:10-5:35)
Dr. Oliver Gao: 15 minutes (5:35-5:50)
Dr. Luvelle Brown: 15 minutes (5:50-6:05)
Dr. Laura Cabrera: 15 minutes (6:05-6:20)
Panel Discussion Q&A: 40 minutes (6:20-7:00)
Derek Cabrera, research scientist at Cabrera Research Lab, says that the sessions will provide a new way of looking at the challenges that we all face, and highlight ways to develop the robust understanding and application of systems thinking needed to meet challenges head on in a way that is aligned with the reality of the way the world works. "Systems Thinking has the potential to change the way we do science and the ways we do society. The problems we face as a species are almost always caused by the differences between how we think the world works and how it actually works. Systems thinking is a field that attempts to explicitly remedy this problem."
The mini-conference will be filmed by Photosynthesis Productions and posted online at www.CabreraResearch.org. The Twitter hashtag for the event is: #STv2. For more information contact: lac19@cornell.edu
Bios for each speaker are below: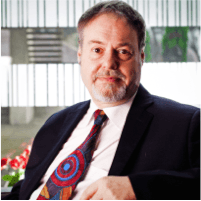 Gerald Midgley
Gerald Midgley is Professor of Systems Thinking and Associate Dean for Research and Enterprise in the Business School at the University of Hull, UK. He also holds Adjunct Professorships at the University of Queensland, Australia; the University of Canterbury, New Zealand; Mälardalen University, Sweden; and Victoria University of Wellington, New Zealand. He was Director of the Centre for Systems Studies at Hull from 1997 to 2003 and from 2010 to 2014. From 2003 to 2010, he was a Senior Science Leader in the Social Systems Group at the Institute of Environmental Science and Research (ESR), New Zealand. Gerald has had over 300 papers on systems thinking, action research and stakeholder engagement published in international journals, edited books and practitioner magazines, and has been involved in a wide variety of public sector, community development, technology foresight and resource management projects. He was the 2013/14 President of the International Society for the Systems Sciences, and has written or edited 11 books including, Systemic Intervention: Philosophy, Methodology, and Practice (Kluwer, 2000); Operational Research and Environmental Management: A New Agenda (Operational Research Society, 2001); Systems Thinking, Volumes I-IV (Sage, 2003); Community Operational Research: OR and Systems Thinking for Community Development (Kluwer, 2004); and Forensic DNA Evidence on Trial: Science and Uncertainty in the Courtroom (Emergent, 2011).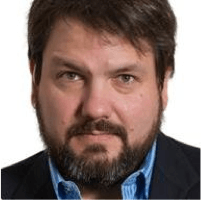 Derek Cabrera
Dr. Derek Cabrera holds a PhD from Cornell University, is author of seven books and an internationally recognized expert in metacognition and systems thinking. His contributions to the field of systems thinking have been integrated into NSF, NIH, and USDA-NIFA programs nationwide and he has authored numerous book chapters and peer-reviewed journal articles and his research has been profiled in peer-reviewed journals, trade magazines, and popular publications. As a member of faculty at Cornell University he designed and taught the graduate course on systems thinking. He was Research Fellow at the Santa Fe Institute for the Study of Complex Systems. Derek was also National Science Foundation IGERT Fellow in Nonlinear Systems and a National Science Foundation postdoctoral fellow developing new ways to incorporate systems approaches in the evaluation of Science, Technology, Engineering and Mathematics (STEM) education programs. Derek was awarded the Association of American Colleges and Universities' K. Patricia Cross Future Educational Leaders Award. His theoretical models of systems thinking have made impact worldwide, and he is US patent holder and inventor of the "metacognitive mapping" diagramming method, the VMCL model of organizational design, a universal tactile manipulative called, ThinkBlocks, and MetaMap software - a suite of systems thinking tools used in K-12, higher education, NGOs, government agencies, corporations, and business schools. He is a senior research scientist at Cabrera Research Lab, and lives in Ithaca, New York with his wife and three children. Prior to his work as a systems scientist, Derek was a mountain guide and educator with Outward Bound and other experiential education programs around the world for more than twenty years.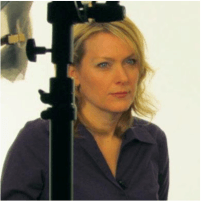 Laura Cabrera
Laura Cabrera (formerly Colosi) is a well-known educator, evaluator, and expert in research methods, with a particular focus on assessing educational outreach programs. She was a senior researcher at Cornell University's Family Life Development Center and has more than fifteen years of research and teaching experience at Cornell University where she taught coursework on Families and Social Policy in Cornell's Department of Human Development. Prior to her work at Cornell, Laura conducted research at the National Academy of Sciences Institute of Medicine, The U.S. Department of Health and Human Services, and The U.S. Department of Justice. Laura is author of five books and holds a PhD in Policy Analysis and Management and a Master's in Public Administration, and a bachelor's degree, all from Cornell University. Over the past decade, Laura has applied her expertise in research methods and translational research to increase public understanding, practical application, and dissemination of sophisticated systems science and systems thinking models. Laura welcomes the opportunity to educate any audience on the imperative of teaching systems thinking and on how systems thinking skills help parents, teachers, and other professionals reach their goals for their children, students, or employees.The result has been adoption in many settings including private companies, public schools, and NGOs, impacting people from preschool to graduate school and beyond. She is currently a senior research scientist at Cabrera Research Lab, in Ithaca, New York.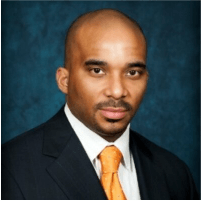 Luvelle Brown
Dr. Luvelle Brown has served as Superintendent of the Ithaca City School District (ICSD) in Ithaca, New York since January 2011. Prior to arriving in Ithaca, Dr. Brown served as a school CIO, Executive Director of the Division of School Improvement, teacher, assistant principal, and principal. Dr. Brown received the 2014 eSchool News Tech-Savvy Superintendent Award, and was recognized by the National School Boards Association as a "20-to-Watch" in 2014. Dr. Brown is the co-author of ThinkTweets: 100 Transformative Tweets for Educators. In his district, Dr. Brown has done much to build a collaborative culture focused on using student work to make real-time instructional shifts. During his tenure at ICSD the district's graduation rate has skyrocketed to above 90% (up from 78%), while students are achieving significantly above state and national average on various standardized tests. Dr. Brown has driven several district-wide initiatives based on systems thinking including: integrating thinking skills into every classroom, shifting the organizational design towards a systemic approach, redesign of learning spaces, and numerous technology initiatives such as systems-based visual mapping, game-based learning, innovative uses of social media, and 1:1 mobile device implementation.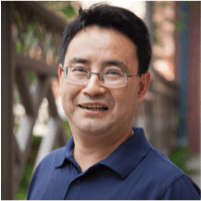 Oliver Gao
Dr. Oliver Gao is an Associate Professor in the graduate fields of 1) Civil and Environmental Engineering (Transportation Systems Engineering), 2) Systems Engineering, 3) Cornell Institute of Public Affairs (CIPA), and 4) Air Quality in Earth and Atmospheric Science at Cornell University. His research focuses on transportation systems, environment (especially air quality and climate change), energy, and sustainable development. He also studies sustainable food systems, quantifying and mitigating green-house gas emissions from food supply chains. He is a member of Transportation Research Board Committee on Transportation and Air Quality (ADC20), a member of Transportation Research Board Committee on Maintenance Equipment (AHD60), an academic member on the FACA Committee of US EPA MOVES model development, and a member (invited) on the editorial board of the international journal Transportation Research Part D: Transport and Environment. Gao received his graduate degrees (Ph.D. in CEE, M.S. in Statistics, and M.S. in Agriculture and Resource Economics) from the University of California at Davis in 2004, M.S. degree in Civil Engineering in 1999, and duel undergraduate degrees in Civil Engineering and Environmental Science in 1996 from Tsinghua University, China. Before joining Cornell, Gao was a quant in the mathematical and econometrical modeling division at the Rohatyn Group, LLG, a Wall Street hedge fund specializing in emerging markets.
A printable version of the schedule and bios can be obtained here.
A flyer for the event can be downloaded and distributed.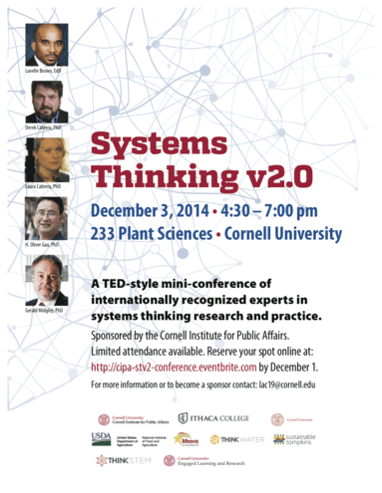 For more information contact:
Thomas O'Toole
Executive Director
Cornell Institute for Public Affairs
Cornell University
294 Caldwell Hall
Ithaca, NY 14853
(607) 255-6668