Cabrera Research Lab Releases MetaMaps, a Powerful Systems Thinking and Modeling Software Platform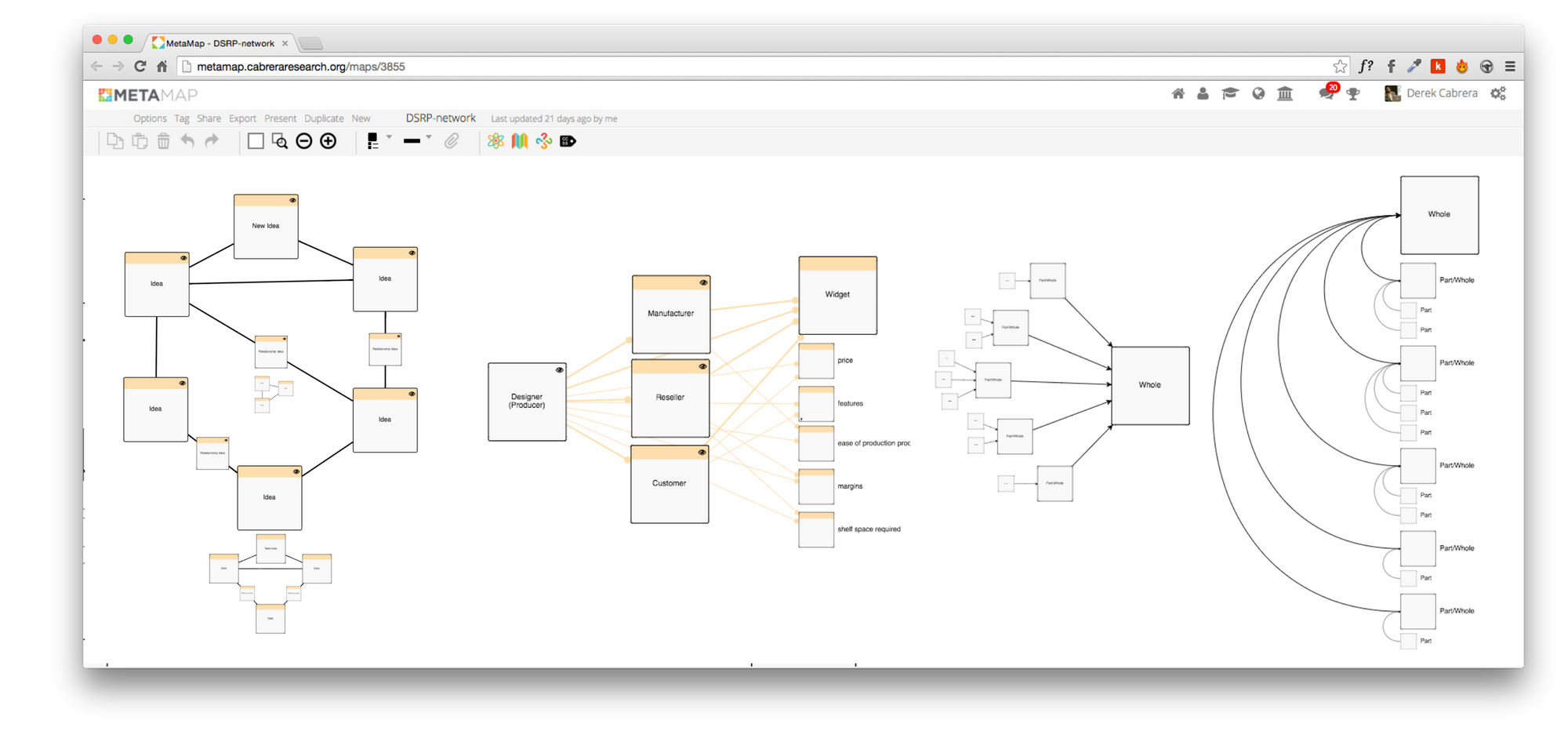 FOR IMMEDIATE RELEASE
FEBRUARY 27, 2015

Ithaca, NY -- With the upcoming beta-release of their systems thinking modeling tool, MetaMap, (metamap.me) Cabrera Research Lab (cabreraresearch.org) makes it possible for everyone to become a systems thinker. Systems thinking is a field of research that combines research in systems sciences and the cognitive sciences to better understand how people can build more useful and accurate mental models of complex, real world phenomena and solve wicked problems. Systems thinking is a necessary skill for organizational leaders, scientists, inventors, designers, policy makers, parents, teachers, and students.
MetaMap is a cloud-based systems thinking modeling tool for visualizing, building, and sharing ideas. The MetaMap interface is a canvas where users structure and build ideas with a simple click of the mouse. The structure of ideas are shown on a simple white canvas that is not clouded by colors and fonts (sometimes known as "chart junk"). The science behind MetaMap teaches users to distinguish between ideas, break ideas down into parts, relate ideas, and look at them from different perspectives. These four simple acts lead to a deeper understanding of any topic or issue of interest.
The many features of MetaMaps make it a powerful modeling tool. For example, sharing and tagging maps, and the social feed which allows users to search for, browse, follow, and vote on maps they are interested in. The presenter function allows users to create presentations for their colleagues. And, user analytics and achievement badges encourage users to extend their thinking while they are using it.
Initial reviews from beta-users have been positive: "simple yet powerful" and "awesome mapping features." Dr. Laura Cabrera, a senior research scientist and expert in translational research on the team that developed MetaMap states, "We have been testing diagraming and modeling methods for over a decade with people of all ages and walks of life from Preschool to PhD, classroom to Boardroom, and with parents and policy makers. The success in these areas and repeated requests from users led us to develop MetaMap software. Although systems thinking occurs in the mind, the modeling software makes it possible for people to practice and learn systems thinking. We are excited to continue this research with beta-users to make MetaMap even more powerful."
MetaMap is based on a theoretical framework for systems thinking called, DSRP Theory. DSRP explicates the four simple rules that are universal to the many systems thinking approaches and methods, making it possible for practitioners of systems thinking to focus their efforts on a smaller set of universal principles. DSRP does for systems thinking what Newton's Laws did for physics. DSRP is an acronym for the four simple rules that underlie systems thinking:
Distinctions Rule: Any idea or thing can be distinguished from the other ideas or things it is with;
Systems Rule: Any idea or thing can be split into parts or lumped into a whole;
Relationship Rule: Any idea or thing can relate to other things or ideas; and
Perspectives Rule: Any thing or idea can be the point or the view of a perspective.
MetaMap makes it easy for new users to apply these rules to their ideas with the click of a mouse. Dr. Laura Cabrera explains, "translational research applies the often complex, mathematical, abstract, or inaccessible findings from basic science to enhance human understanding and well-being. The release of MetaMap software is a long-term goal we have had of translating basic science into powerful practice. As an example, the same ideas which once were taught to Cornell University doctoral students over the course of sixteen weeks are now being taught and used in K-12 education and in the private and public sectors."
For example, in schools, teachers who embrace systems-thinking are seeing better results in their classrooms. In three schools in Pennsylvania, 70.5% of students showed increased test scores after less than one year of systems-thinking in their classroom. On average, scores increased by 18.5% (e.g., a C student with a 70 average ended the year a B+ student with an 88 average). In businesses, CEOs report greater motivation among employees, efficiencies in processes, and faster results towards their corporate vision. In addition, MetaMap has been used successfully to develop more sophisticated and quantitative ways of developing culture in organizations.
At the 2014 Systems Thinking v2.0 Conference at Cornell University, Dr. Gerald Midgley, professor of systems thinking, director of the Centre for Systems Studies at the University of Hull, and past president (2013-2014) of the International Society for the Systems Sciences, explained that DSRP is foundational to the field of systems thinking, which consists of a plurality of methods. "[There is] huge variety of systems ideas, 100 years of research with literally hundreds of different methodologies and many, many systems ideas. I have to ask how we can make sense of that field. When I saw [DSRP], I realized that it broke systems thinking down to its bare essentials. [DSRP are] patterns across the field of systems thinking."


Dr. Derek Cabrera, an internationally known researcher and theorist in the field of systems thinking who discovered DSRP Theory and who led the team of researchers who developed the original modeling and visualization technique that provided the blueprint for MetaMap, explained the design principle behind MetaMap,"We wanted to create a systems thinking platform that didn't just help people capture their systems thinking but actually made them better systems thinkers just by using it. Imagine for example, if using Word made you a better writer or if using Excel made you a better accountant? Imagine if using iPhoto actually made you a better photographer or iMovie made you a better director. We designed MetaMap to actually improve systems thinking skills through use alone. Of course, we added many formal learning opportunities on the platform such as trainings, FAQs, and tutorials but we wanted use alone to be transformative."
Cabrera continued, "Historically, the systems thinking methods and approaches that have been most useful and popular have had two qualities. First, they were theoretically powerful. That is, they had a deep scientific basis grounded in research. But second, they had a practical component that allowed people to do something. Usually this practical component consists of a diagramming or modeling method which, initially done with paper and pencil, later became software so that people could dynamically manipulate, save, and distribute the diagrams. MetaMaps diagramming or modeling language is based on the most advanced theories and research in systems thinking and will transform practice."
Cabrera Research Lab (CRL), located in Ithaca, NY, is an offshoot of the Cabrera's research at Cornell University. It was established to provide leadership in systems thinking in three areas: (1) Research: to push the envelope on systems thinking theory and practice; (2) Innovation: to develop new tools, techniques, and technology to improve systems thinking; and (3) Public Understanding: to increase public awareness and use of systems thinking. The Mission-Vision of CRL is to engage, educate and empower 7 Billion Systems Thinkers.
Now with the release of MetaMap, the Lab's vision of 7 Billion Systems Thinkers can further move towards a reality.
For more information about MetaMap, Cabrera Research Lab, and other Systems Thinking tools visit www.cabreraresearch.org or contact Laura Cabrera at lac19@cornell.edu.