New book on systems thinking released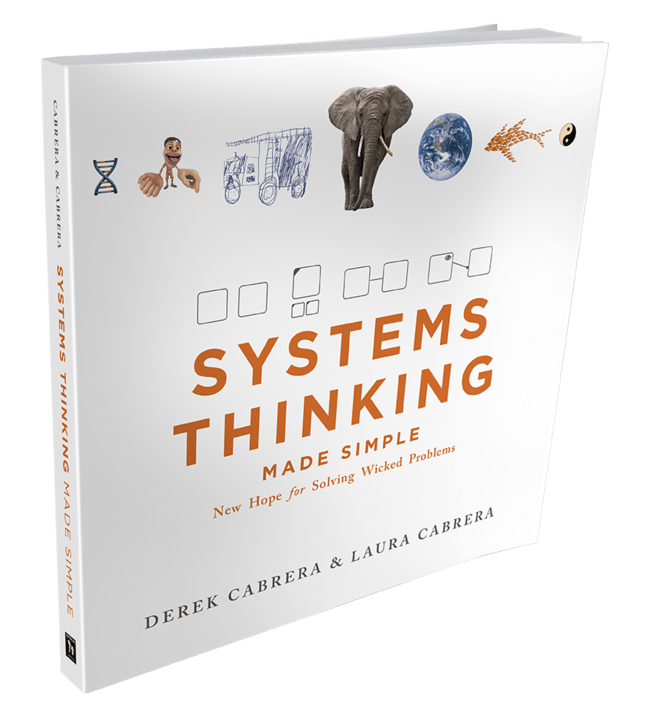 We're excited to announce the publication of a new book on systems thinking by Drs. Derek and Laura Cabrera. Systems Thinking Made Simple: New Hope for Solving Wicked Problems reflects decades of research and teaching systems thinking to a diverse array of audiences and for myriad applications—from business to education and from personal development to policy analysis.
Systems Thinking Made Simple provides a comprehensive yet approachable introduction to the field. It explains the four rules that both underlie systems thinking of all kinds and human cognition itself. These are making distinctions and recognizing part-whole systems, relationships, and perspectives (DSRP). The book does far more than explain the complex field of systems thinking, it teaches everyone how to think and perform better in all their endeavors.
Systems Thinking Made Simple is of course must-reading for systems thinking scholars and professionals. The intended audience and relevance is much larger than that, however. This book is truly accessible for the novice, and provides a mechanism for improving and deepening cognition (and awareness of how and what we think). The authors teach systems thinking with reference to a plethora of examples and demonstrate DSRP at work in common objects and processes such as graphs and tables and writing an outline.
There are two application chapters that deal with humans and with organizations. These are critical for anyone who belongs to or cares about an organization and anyone who is concerned about how to encourage more perspectival, thoughtful thinking and prosocial behavior among people.